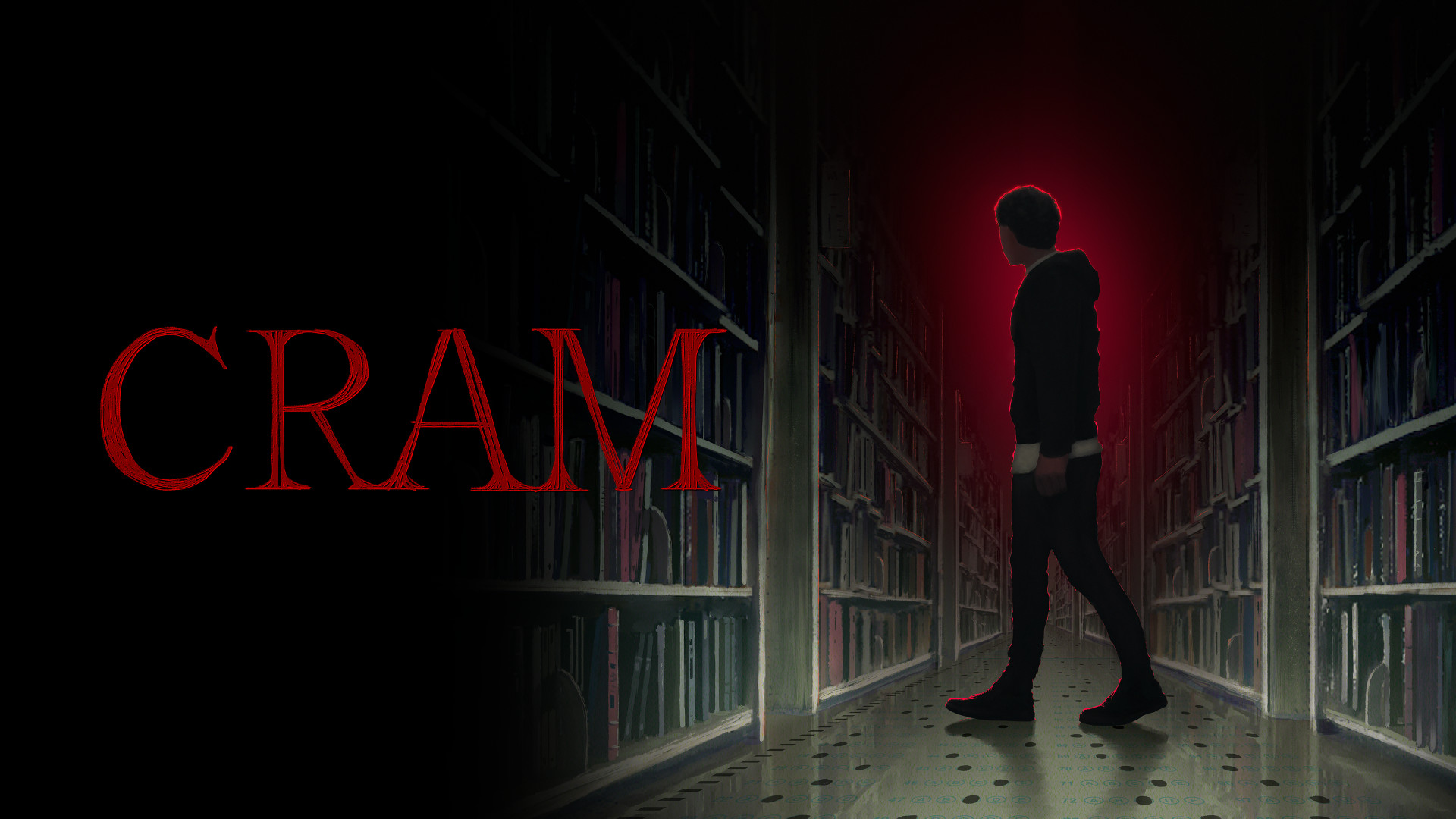 a film by Radical Rhinoceros Pictures
We all do what we gotta do to pass – except Marc. Desperate to somehow finish his final final paper, he struggles to cram all night in the library. But the library has other plans for him...
Festivals
Awards
Winner – Audience Award for Best Dark Matters Feature at the Austin Film Festival
Winner – Best Feature at the Magnolia Independent Film Festival
Nominated – Outstanding Short Feature at the Buffalo Dreams Fantastic Film Festival
Press
Credits
Written & Directed by
Abie Sidell
Produced by
Trevor Wallace & Zachry J. Bailey
Executive Producers
Felix Handte & Abie Sidell
Cinematography by
Felix Handte
Production Design by
Sydney Amanuel
Costume Design by
Alexandra Nyman
Edited by
Abie Sidell & Trevor Wallace
A Radical Rhinoceros Picture
CRAM
1st Assistant Director
Trevor Wallace
2nd Assistant Director
Faizan Kareem
Casting Director
Rolando Chusan
Cast
(In Order of Appearance)
Gonzalo
Conrado Falco III
Doctoral Candidate
Tobías Arizio
Uniformed Student
Marc Winski
Pre-Law Guy
Matthew Elijah Webb
Pre-Espionage Girl
Madeline Seidman
The Master of the Books
Brandon E. Burton
The Machinist
Rolando Chusan
Background
Library
Allison McHugh
Rebecca Seidel
Ciara Sidell
Nikki Siegart
Janno Tavas
Party
Samuel DeMuria
Karl Green
Anthony Holiday
Brandon Lovejoy
Sarah Lyddan
Isuri Wijesundara
Exam
Yana Azova
Melanie Brenae
Emma Handte
Constance Hester
Angela Mourtazalieva
Associate Producers
Chris Bray
Rafael Mendez
Alex Wismer
1st Assistant Camera
James Reslier-Wells
Flip-o-Tron 2000 Construction
Malcolm Handte
Special Effects Makeup
Beatrice Sniper
Special Effects
Jon Hanford
Puppet Design & Fabrication
Sydney Amanuel · Jon Hanford
Wing Puppeteering
Zachry J. Bailey
Head & Beak Puppeteering
Sydney Amanuel
Goop Expulsion
Abie Sidell
Title & Poster Design
Devin Matlock
Graphic Design
Fahim Rahman
Post-Production Supervisor
Zachry J. Bailey
Visual Effects
Felix Handte · Abie Sidell · Yibin 'AB' Su · Trevor Wallace
Post-Production Sound
UptownWorks
Sound Design, Editing, and Mixing
Daniela Hart
Sound Mastering
Noel Nichols
Music Supervisor
Daniela Hart
Location Sound
Alex Quitugua
Eben Mannes
Catering
Queen of Tarts Catering
Coffee
Drummer Boy Coffee
Drivers
Adriana Bräu-Díaz · Alex Wismer
Production Assistants
Ronaldo Chusan · Fahim Rahman · Bekah Brown · Brandon Lovejoy · Kevin Jinghong Zhu
Behind The Scenes
C1 Media
Stills Photographer
TeQoa Griffith
Production Health & Safety Consultants
Norbert Bräu, M.D.
Adriana Bräu Díaz, R.N.
Animal Trainer
Angela Mourtazalieva
Trailer Editor
Alex Wismer
ADR & Score Recorded at
Kerguelen Studio
ADR Recording Engineer
Daniela Hart · Felix Handte
Score Recording Engineer
Daniela Hart · Felix Handte · Daniel Rudin
Musicians
Clarinet
Graeme Steele Johnson
Violin
Ariana Cappon · Christine Wu
Singers
Cristóbal Arias · Felix Handte · Sen Huang
Stephanie Machado · Daniel Rudin · Abie Sidell
Jasmine Michelle Smith · Solon Snider · Marc Winski
Greek Translation
Lina Kapp
"Sing for Your Supper"
Written by Richard Rogers & Lorenz Hart
Performed by The Mamas & The Papas
"(Mom This Is) The Age of Exhibition"
Written by Daniel Rudin · Abie Sidell
Performed by Daniel Rudin · Eric Sabshon
"Little Acts"
Written by Sydney Amanuel
Performed by A People Person
"Milk"
Written by Daniel Rudin · Abie Sidell · Sajda Waite
Performed by AREOLA BAREALIS
Many Thanks to the Extended CRAMily
James Abrams · Vlad Azov · Yana Azova · Jesse Badash · Stephanie Bahniuk · Morgan Baker · Marc Bonan · Claire Braddach · Jane Bradley · Adriana Bräu-Díaz · Raquel Bräu-Díaz · Brandon E. Burton · Gylanni Carrington · Jeremy Cohen · Laura Copenhaver · Catherine Daddario · Lizz Dorovitsine · Brandon Doyle · Dana Doyle · Conrado Falco III · Justin Foley · Jaxie Friedman · Ali Goldberg · Malcolm Handte · Janis Handte · Emma Handte · Jon Hanford · Dylan Hunter · Sarah Keltz · Alyssa Kempinski · Rebecca Kent · Robin Kerns · Harriet Kerns · Lily Kong · Paige LaRoss · Nurse Laura · David Lawson · Elizabeth Litvitskiy · Zeke Luger · Mateo Marquez · Joshwald Martinez-Peralta · Jennifer McClure · EJ Meehan · Chris Mello · Rafael Mendez · Julian Michaels · Nikki Mills · Rishi Mirchandani · Greta Moran · Angela Mourtazalieva · David James O'Donnell · Sam Phillips · Cailin Puente · Camy Quezada · Rhianna Reinmuth · Alyssa Rios · James Rutuelo · Gamal El Sawah · Orli Segal · Rebecca Seidel · Ciara Sidell · Nicole Siegart · Solon Snider · Katey Spinner · Mick Szal · Brandon Tufano · Sajda Waite · Tiara Wallace · Debbi Wallace · Steve Wallace · Isuri Wijesundara · Alex Wismer
All Saints Episcopal Church, Staten Island, NY
Graduate Hotel, New Haven, CT
Heart of Gold, Astoria, NY
Olympia University
Handheld Films
Technological Cinevideo Services
Adorama Rental Company
Gotham Sound